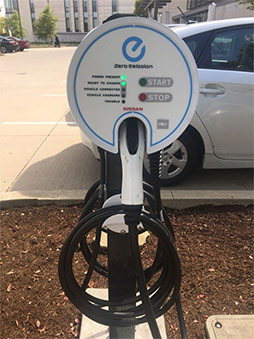 As a state institution, Indiana University is not allowed to generate revenue from the sale of electricity or provide electricity at no cost.
University permit holders who have an electric hybrid or total electric vehicle and would like to charge it on campus may purchase a supplement EVC permit. EVC permits are only available at our office.
Visitors may charge at stations in garages, and pay the stated hourly rate for parking. Vehicle must be actively charging to be parked in an EVC space. Charging is limited to 4 hours a day.
EVC stations are available at these locations:
Cyberinfrastructure Building*
East Parking Garage* (lower level only)
Garage locations

Atwater Parking Garage
East Parking Garage (upper level only)
Fee Lane Parking Garage
Henderson Parking Garage
Forrest Avenue Parking Garage
*Requires a properly displayed valid employee parking permit.